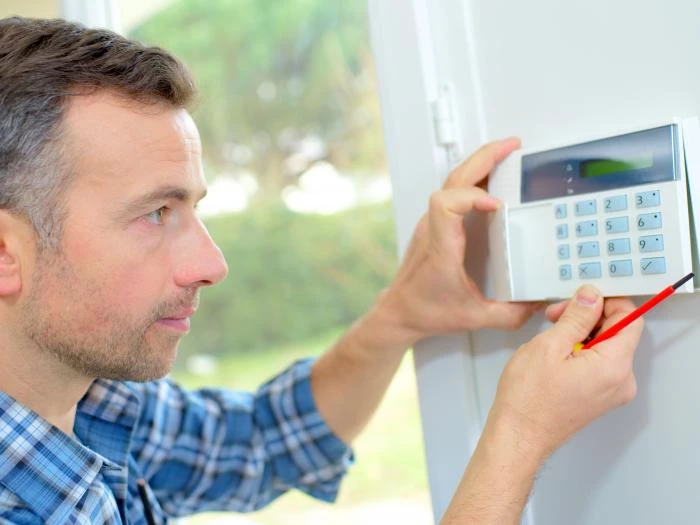 The installation of a security alarm system at home or business is possible for the handyman with some experience of DIY.
But there are drawbacks if you are looking for safe protection for your family or good security for your business.
It is far better to call in the professionals and Crown Securities can offer a first-class service when it comes to installing and maintaining burglar alarm systems.
Of course, we would say that but, if you should decide to carry out the project yourself, there are several things to consider.
Your home insurance could be affected by installing a DIY home security system, and businesses could find claims rejected if an intruder alarm system has not been set up by an approved installer.
With so many DIY kits on the market, you may be tempted to try it yourself, but there are many decision to be made even before you begin and you will need to be sure you get them right.
Decide on the best system for you
First is deciding which sort of alarm system you want. They are usually wired or wireless. Wired alarm systems can be challenging to install and will require much higher DIY skills.
Both types will also need several different sorts of detectors. There are two basic types -- those triggered by movement or those where a contact is broken by opening a door or window.
PIR sensors are triggered by body heat, or motion and placement can be a problem. They are suitable for covering larger areas but not much use in confined spaces or near heat sources such as radiators.
PIR detectors get less reliable the further they are from the control box, and they can be affected by electrical interference by such things a microwave overs or even large fridges.
Expect false alarms to increase if they point at windows or sit near large metal objects. They are often positioned quite high in the corner of a room both for maximum coverage and for higher reliability.
Break contact detectors are preferred at vulnerable entry and exit points like doors and windows, but you will need to decide first which require the most protection and how many sensors you will need.
Stay in control
No matter which type of sensors you use, they will all need to be monitored by a control box, and that will necessitate both a mains supply and a battery back-up.
The control panel will need to be accessible, preferably near a mains socket and a telephone point but not so obvious that children can play with it and make sure it is tamper-proof to prevent an intruder turning the whole system off.
A further decision is needed on the type of alarm signal. A highly visible audible alarm box sends a clear message to the would-be burglar, but it needs to be challenging to reach, and it may be better to have more than one.
More sophisticated systems can send out alerts to pre-programmed phone numbers, or specialist agencies can monitor them 24/7.
Make a plan to keep burglars at bay
Drawing up an outline of your home can be a real help in deciding where the vulnerable entry points are, how many detectors you will need, and what type they need to be.
PIR sensors can easily be triggered by household pets, so you will need a pet-friendly model if you have cats or dogs in the house.
It is a good idea to set up a system temporarily and make sure it all works before fixing things permanently in place. Programme the network and synchronise the sensors with the tamper-proof system disabled or you will suffer several noisy alarms.
After deciding where the control box will sit, each sensor should be placed in its intended location and tested to ensure it can be detected accurately. If the control box can't 'sense it' there may be a range problem.
Don't mount the control box until you are sure that all the sensors can be detected and then it's time to fix everything in place and carry out a final test.
More ways to protect from intruders
Some would argue that an alarm going off is a signal that your security system has failed as the intruder has already gained entry into your property. There are undoubtedly many other things you can do to ensure your home and possessions are kept safe.
External lights with or without CCTV security cameras, for example, can prove a strong deterrent to would-be burglars.
Make sure all doors and windows have decent locks and use padlocks on side entries, garden gates, sheds and garages.
Hedges and fences at the front of the house should be kept low to prevent intruders using them to cover their activities while thorny plants and hedges under windows can prove to be an excellent deterrent.
There are plenty of devices on the market to switch lights, radios, TVs, etc. on and off while the house is empty to trick intruders into thinking someone is still at home.
Remember, safety and security in the home are as much about prevention as a cure, and there are plenty of common-sense precautions you can take which cost next to nothing.
How Crown Securities can help
Security Experts at Crown Securities will carry out an evaluation and give free advice on the best type of intruder response alarm system to suit your needs and your budget. Call us now on 0800 019 1131.
Crown Securities UK is NSI Gold accredited – the highest level of NSI accreditation and highly valued across the industry and for the police, fire and rescue services and home and household insurers.
---
Related articles