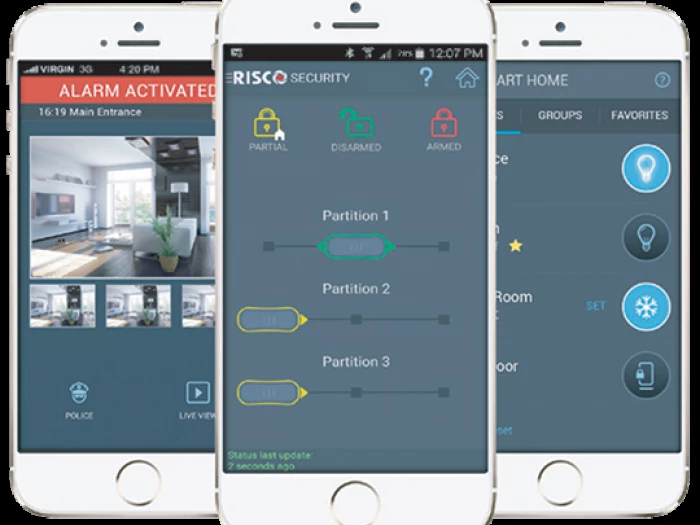 We are home security specialists offering hi-tech, cutting-edge intelligent alarm systems that can protect your home against unwanted intruders. Our multi-layered smart security systems put home security in your hands with a custom solution to fit every home.
Crown Securities UK's smart security solutions promise complete protection against intruders, indoors and outdoors, covering every home area. Flexible and adaptable systems mean we can tailor designs to any home with options to expand and enhance coverage anytime.
Smart security devices are electronic devices and systems that enhance the security of homes, businesses, and other property using hi-tech, typically over the Internet. These devices control various sensors, cameras, and other security equipment to monitor, protect, and manage access to any property.
Smart home security hubs can be configured to serve as a central control point for all your smart security devices so you can integrate and manage them from a single app. Comprehensive security systems can offer a combination of these devices along with 24/7 professional monitoring services.
Smart security devices are often integrated into smart property ecosystems, allowing for seamless control and automation of various security features. They offer convenience and peace of mind by providing real-time monitoring, remote control, and notifications of security events.
Examples of smart security devices include:
SMARTCAMERAS can have motion detection and night vision features. You can monitor your property remotely by smartphone or computer.
SSMART DOORBELLS enable real-time video and audio communication with visitors, even when you're not at home.
SMART LOCKS can be controlled remotely by an app. They can allow temporary access codes for guests and electronic key sharing.
SMART LIGHTS can be programmed to simulate occupancy, so it looks like someone is at home even when you're away.
SMART THERMOSTATS are usually used for climate control but can detect smoke and carbon monoxide and send alerts.
SMART LOCKS allow you to open remotely and close doors, such as garage doors and send alerts to your phone if access is attempted.
SMART CURTAINS and window blinds can be scheduled to open and close at specific times, giving the impression of an occupied home.
SMART FENCES use sensors and cameras to detect movement around your property's perimeter and send alerts if an intruder is detected.

STYLE4
Why Choose Crown Securities to Install Your Smart Alarm?
DIY security installations may be cheaper but may not protect you adequately against burglars and unwanted intruders. A security expert can
Carry out a proper security assessment of your home or business
Help you decide on the best products to meet your security needs
Assess the best places to site sensors and other security devices
Troubleshoot problems and walk you through your system
You will not know if your equipment is installed and set up correctly if you are not a security expert. DIY home security systems come with the risks of improper installation and security vulnerabilities.